Looking for the best cryptocurrency for weekend rally? You've come to the right place. Going into the weekend the market is on the up after a risk-off scare in equities spilled over into selling pressure in crypto. However, at the weekend that danger will not be present, although equity weakness could, of course, resurface today or on Monday. 
But for now worries about the US Fed cutting back on asset purchases, which has effectively been underwriting risk assets such as equities (and arguably crypto too), could have calmed, although the Delta variant's march across Asia, America and Europe is not helping risk sentiment either. So much for crypto's negative correlation with stocks!
Stock weakness spillover effect won't be around at the weekend
It looks like the explosion in stock retail trading has weakened whatever negative correlation there may have been in the past between crypto and equities, with the same demographic buying up meme stocks overlapping with the hot retail money in crypto.
In other words when equity investors and traders start selling off their winners, or part thereof, crypto also comes into the picture.
But for now, with bitcoin trading just above $47,000 and start performer ADA hitting $2.50, the crypto market is well-placed for a profitable weekend of trading, but be mindful of profit-takers upsetting the apple cart.
Altcoin season is upon us – what to buy?
Certainly retail has re-entered crypto markets with a vengeance, although those buyers could just as quickly depart at the first sign of trouble.
Nevertheless, for now the alt season is back, as retail investors go in search of the next big thing in crypto. Whether their picks turn out to be real bargains or not is another story, but there are certainly a number of coins that have caught the imagination and could be in for a booster run over the weekend.
We ran a crypto asset screener ranking coins by highest real trading volume over the past 24 hours.
We then selected those coins that have seen rising prices since mid-week in order to identify those with the best near-term momentum going into the weekend.
We only selected from the top 30 ranked by 24-hour volume.
Your capital is at risk
We also added to the list those coins identified by topstonks.com, which tracks mentions of stocks and crypto on wallstreetbets, Twitch and 4chan. SOL is in the top 5 on Twitch, and when only crypto messaging activity is considered, aside from BTC and ETH, the other top 5 are SOL, ADA and DENT. We already have SOL and ADA in our selection so it is just DENT that needs to be added to our list.
Coinbase (COIN) – the crypto proxy to buy before close today?
Of course it's not a coin, but Coinbase (COIN) is no. 2 and no. 1 on Twitch and 4chan, respectively. COIN is a crypto proxy stock and its board has just allowed it to hold $500 million worth of crypto on its balance sheet. This week Coinbase also teamed up with Japan's largest bank – MUFG – to enable purchase of top crypto assets by bank customers.
Real volume shown in the table below is as determined by Bitwise Investments, which takes volume data from the following 10 top exchanges:
Binance, Kraken, Bitfinex, Coinbase, Bitstamp, BitFlyer, Gemini, itBit, Bittrex, and Poloniex.
Best cryptocurrency for weekend rally roundup
We ended up with a list of 14 coins in total for you to consider for a purchase as the best cryptocurrency to buy for weekend rally.
Exactly which one is most likely to explode will probably be those with the best visibility in the market but DENT – the smartphone data storage and airtime trading network – is a good outside bet, priced at $0.00719.
Avalanche (AVAX), which is in the Solana (SOL) ecosystem is another solid bet, although we selected for a weekend rally last week but it didn't start moving until the weekdays commenced.
The XRP army is definitely on the march right now, so would expect weekend uplift there. And of course the star performer this week is probably Cardano's ADA token which has been catching a bid as the Alonzo smart contract upgrade looms in September. ADA is now the third most valuable coin.
Your capital is at risk
If you are not tempted by our altcoin selection and want to play it relatively safe, then you might want to read our guide on how to buy bitcoin.
Cardano (ADA)
Ripple (XRP)
Polkadot (DOT)
Solana (SOL)
Terra (LUNA)
Polygon (MATIC)
Avalanche (AVAX)
Internet Computer (ICP)
The Graph (GRT)
Algorand (ALGO)
Cosmos (ATOM)
Kusama (KSM)
FORCE (FOR)
Dent (DENT)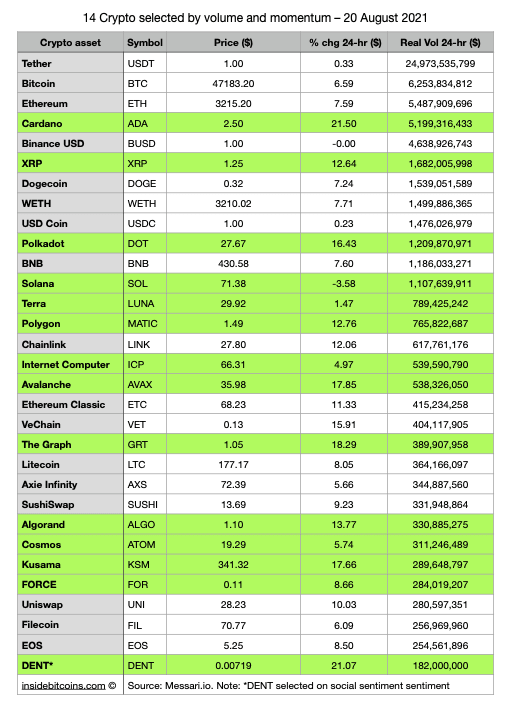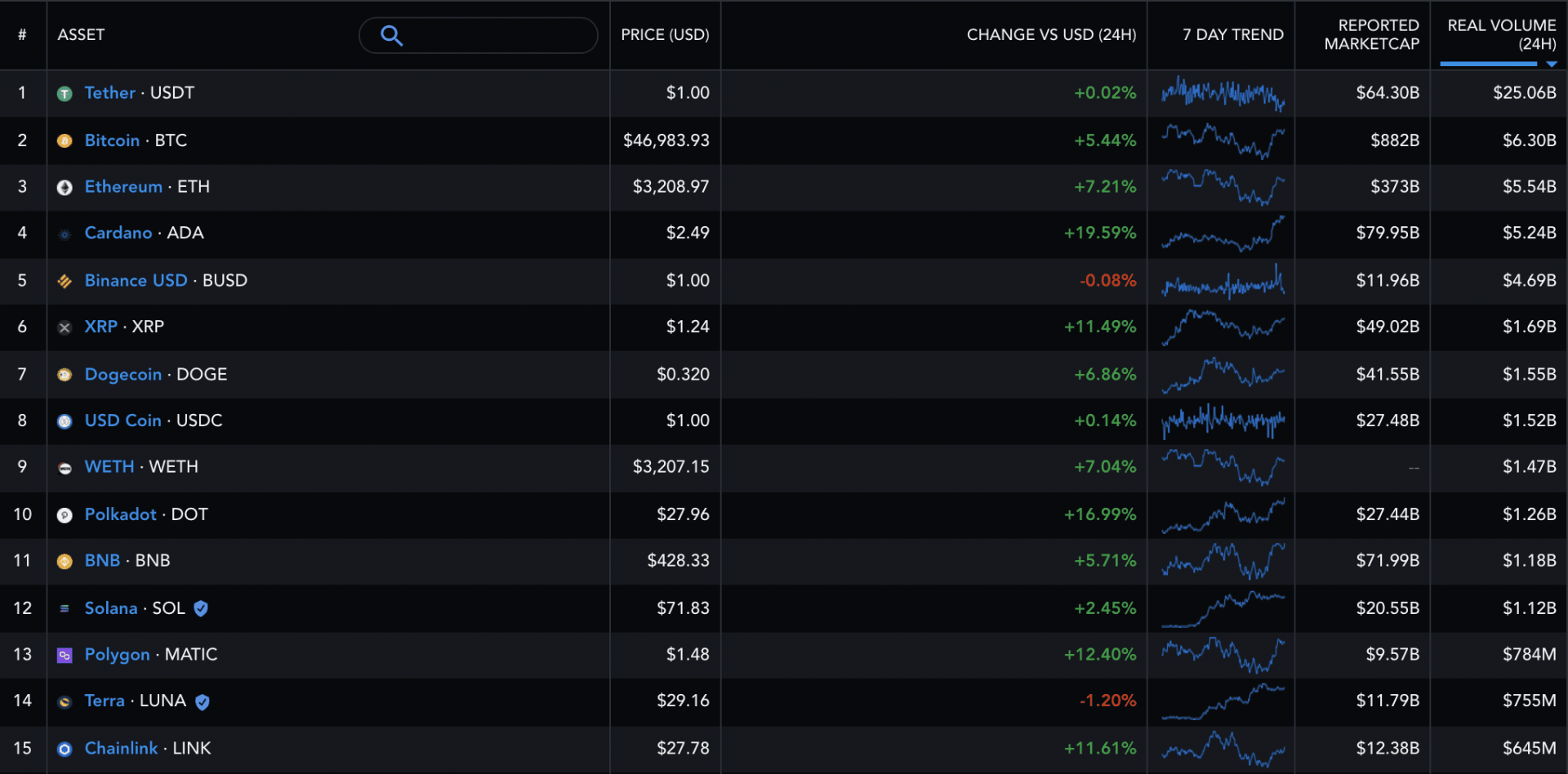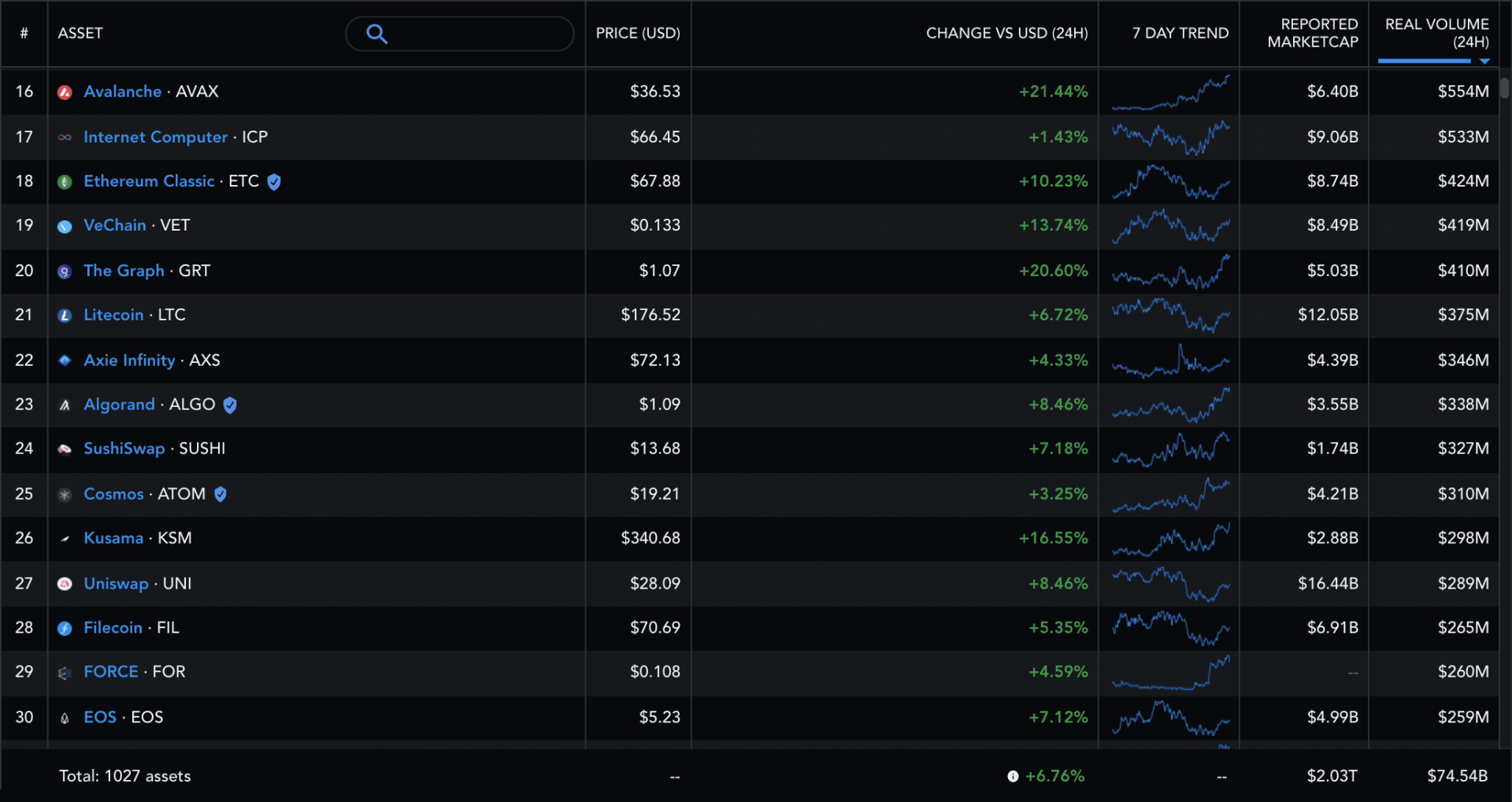 Looking to buy or trade crypto now? Invest at eToro!
Your capital is at risk
Credit: Source link